Smart Force. Business Forward.
Innovative Salesforce Work at Best Cost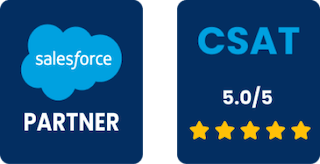 At Winfomi, we are not just a Salesforce development company
We're your trusted Salesforce partner in success. With a proven track record of 500+ projects and 100+ happy customers, we specialize in Salesforce consulting, implementation, development, integration, and managed services. Our mission is simple: empower businesses with Salesforce solutions tailored to their unique needs. Experience excellence; choose Winfomi.
At Winfomi, being a Salesforce Trusted Partner is not just a title; it is a promise. A promise to deliver excellence, integrity, and innovation at every step of your Salesforce journey.
500+
Projects
100+
Happy Clients
Industry Expertise

Real Estate

Education

Financial Services

Healthcare

Hospitality

Logistics

Retail

Non Profit

Manufacturing

Telecommunications

Professional Services
Why Work With Us
Each customer is unique. Every business problem is unique. We don't adopt a 'one solution fits all' approach. We put innovation at the forefront of implementing solutions.
What Our Customers say

WINFOMI TECHNOLOGIES LLP
46, Kerala Club Rd,ATT Colony,
Gopalapuram,Coimbatore,
Tamil Nadu - 641018
WINFOMI TECHNOLOGIES LLP
Door.No.452/1,Sanarpalayam,
Mylambadi,Erode,
Tamil Nadu - 638314
Home
About
Services
Success Stories
Blogs
Culture
Careers
Contact
WINFOMI TECHNOLOGIES LLP | win@winfomi.com
Copyright © 2023. All Rights Reserved. Designed by Deedbee Social Ventures.
Image credits | freepik.com